About EnviroPump and Seal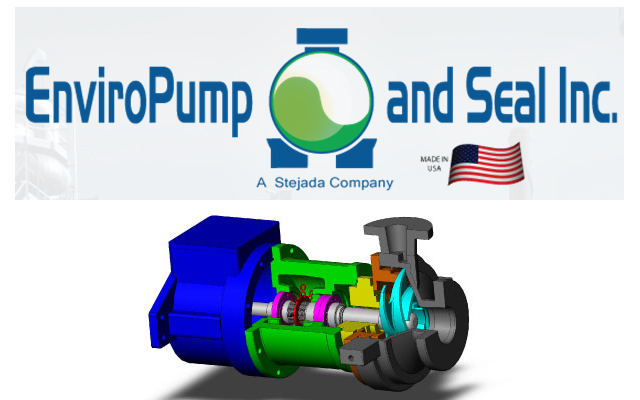 EnviroPump and Seal manufactures ANSI centrifugal pumps designed to maximize pump bearing and seal life to minimize the six major reasons for down time and pump failures.
Vibration –  causes stress, cracking, bending, and loosening of major components, and contributes to over-heating.  The solution is stronger thrust bearings located closer to the seal and impeller. EnviroPump and Seal uses the most rigid bearings and shaft assemblies that reduce vibration readings by up to 90%.
Heat – distorts seal faces, degrades bearing oil, changes critical clearances and tolerances.  The solution is the largest seal chamber to carry away maximum heat.  Also hydraulically balanced mechanical seals minimize friction, lowering surface temperatures.
Improper Lubrication – causes bearings to fail and seal faces to break down.  EnviroPump and Seal's patented oil misting system lowers bearing  temperature without a drag on the shaft.  Site glass can be installed on either side of the pump making it easier to monitor the oil level.  The drainage plugs are found at the lowest point of seal and bearing areas.
Installation and alignment errors – causes many pumps to fail at start up or fail prematurely.  Our C-flange motor adapter eliminates the need for coupling alignment.  Also adjustable legs eliminate shimming and base plate leveling is not required.
Corrosion – elements break down working pieces adding to wearing of components.  Duplex stainless steel is our standard material and the interior of the oil chamber is specially painted to protect against oxidation.
Poor environment – contamination destroys seals and bearings.  EnviroPump and Seal is the only pump with a 360⁰ sealed shroud encompassing the critical seal and thrust bearing areas eliminating physical damage and wash down contamination.
EnviroPump and Seal can upgrade nearly any ANSI centrifugal pump with our power frame as to not upset performance conditions of an existing pump, or alter piping.
EnviroPump and Seal is made in America!