Virtual Catalyst
July 20, 2020 @ 8:00 am

-

July 24, 2020 @ 5:00 pm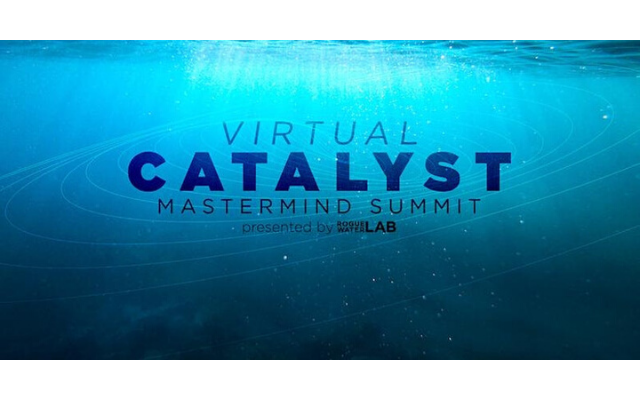 Virtual Catalyst focuses on the ABCS of water communication: assessment, branding, content, strategy + tribal collaboration and storytelling
About this Event
Rogue Water Lab designed our first ever Virtual Catalyst Mastermind Summit with connection, collaboration, and deep learning at the forefront, as this is the essence of Catalyst in real life.
The spirit of Virtual Catalyst is momentum.
How can this difficult transition into unknown territory be a moment of truth and an opportunity to dream up a better, richer and more inclusive 'normal?'
How can this experience be a catalyst to reimagine the impact we bring about in our communities?
The Summit is spread across a traditional work week – 90 – 120 minute sessions focused on the ABCS— assessment, branding, content, and strategy + tribal collaboration and storytelling.
This won't just be a series of webinars. We're using a virtual conference platform called REMO that gets us as close to in-person as possible, with a 'show floor', the opportunity for impromptu networking at 'tables' and much more. We'll also have interactive elements built into every session – worksheets to follow-along, homework to complete on your time that support the integration of each lesson, and opportunities to connect beyond the scheduled events.
All daytime sessions begin at 11am CT, and afternoon sessions begin at 4pm CT. Recordings will be made available to registered attendees.
As a bonus, the first 100 people to register will receive a Catalyst Care Package. This is an exclusive surprise package of goodies that is not to be opened until 10:30 am CT on July 20th at the New Box party.
Agenda:
Day 1 – Monday, July 20: Opening Session & Branding
Ben Brugler – CEO at ahkia communications
Reimagining Us: The Power of our Personal Brand.
Day 2 – Tuesday, July 21: Assessment
Rogue Water Lab Team
Pivot! Using the hierarchy of competency as your compass to reimagining your program.
Day 3 – Wednesday, July 22
Daytime Session: Strategy
Dr. Stacy Landreth Grau – Professor at Texas Christian University
Reframing Messy Wicked Problems. Using design thinking to reframe your strategy and to turn constraints into catalysts for impact.
Afternoon Session: Tribal Collaboration
Dr. Tobin Redwine – Professor at Texas A&M University
Building authentic community in a virtual world.
Day 4 – Thursday, July 23: Content
Shea Dunifon – Education Coordinator at Pinellas County, FL
Rethinking public education and engagement in a virtual world.
Special Afternoon Session: Brave Blue World Screening and Panel
Day 5- Friday, July 24: Closing Session & Storytelling
Steven Drangsholt – Sales Leader at Brown and Caldwell
Using the story model to create clarity and collaboration around your mission.