1. Easy and straightforward installation
Re-usable and polarized cable entry with KSB plug connection ensures fast pump installation and removal.
2. Saves energy 
Thanks to optimized hydraulic system and higher efficiency.
3. Absolutely reliable and non-clogging 
Thanks to optimized cutter (S-type) impeller and large free passages using a recessed vortex (F-type) impeller.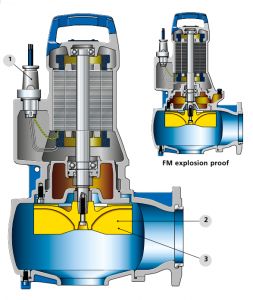 Flexibility
The standard model can easily handle normal waste water media and fluids with slightly abrasive or corrosive characteristics. Beyond this, KSB is glad to offer special features regarding cable type, impeller material, coatings and heavy duty mechanical seals.
Minimum inventory costs
A single set of bearings, gaskets and mechanical seals fits all sizes.
FM Approved Dual Voltage Motors
(230/460V)
Class I, Division 1, Group C & D
Designed for continuous duty cycles.